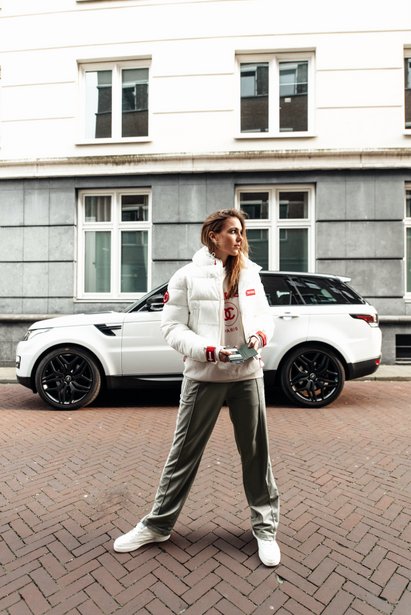 FACEBOOK | TWITTER | INSTAGRAM | PINTEREST
Ekster® Launches the First Voice-activated Smart Wallet. This trackable RFID-blocking wallet provides the fastest card access to date and is solar-charged.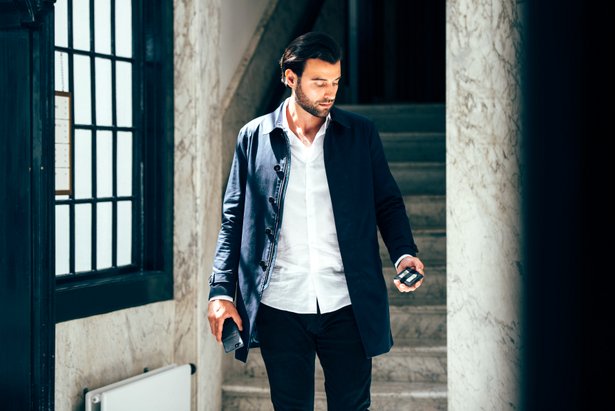 After raising over $1,000,000 in their previous crowdfunding campaign, Ekster®, the world's largest smart wallet brand, has launched their third-generation product line. This time they have engineered both the slimmest and the first voice-activated smart wallet to date. Owners can now ring their wallet, find it on a map or even make use of the widespread Chipolo® community to help locate their missing belongings. Battery issues are no longer an issue due to Ekster's solar-powered tracking solution, which can last up to 2 whole months on a full charge. These RFID blocking wallets are held together by handcrafted premium leather for a luxury look and feel, and provide instant card access at the click of a button.
The First Voice-activated Smart Wallet Ekster's products are now compatible with Google Assistant and Amazon Alexa. This means you can now locate your wallet or phone using your smart speaker, or even just use voice command on your phone using either of the two apps. Your assistant can make your wallet ring, or it can tell you where it was last seen on a map. All you need to do is install the Google Assistant or Amazon Alexa app and follow the simple steps to enable Chipolo for them.
The First Solar-Charged Smart Wallet

"This is the first solar-charged smart wallet on the market, which means you won't ever have to charge or replace your tracker batteries" said Richard Canneman, Co-founder. Their solar-charging solution does not require direct sunlight to charge and only requires three hours of charge time to last two months with full worldwide tracking functionality. Ekster's solar technology is now even being implemented by major global shipping companies like Fedex to track their containers.
Partnered with Chipolo®
Chipolo is known for creating the world's slimmest and loudest tracking devices. This partnership has allowed Ekster® to trim the thickness of their trackers in half (0.09") as well as make them sound twice as loud. The upgraded Bluetooth 4.2 provides a more
stable connection and doubles the connectivity range. Each tracker has a unique QR code that links it to your smartphone like a fingerprint. If your wallet is lost and someone finds it, by scanning this QR code a message will be sent to you, immediately letting you know where the wallet is. Chipolo's worldwide crowd GPS tracker network spans across the globe to help you find your wallet even when it's out of Bluetooth range. When any user is within range of your lost item, you receive a GPS update of its location. A fun new feature that was added is the ability to use your tracker as a selfie remote.
Faster Card Access
Ekster's new smart wallets hold at least 12 cards, but users can enjoy instant access for up to six cards with the click of a button using Ekster's new and improved card access mechanism. It's simple – click the trigger, and the cards are immediately ejected without having to open the Ekster Wallet. With the secret inner coating and mechanism redesign, your cards now eject further for easier access.
RFID Blocking
Credit and debit cards issued within the past decade have RFID and NFC technology embedded in them. Cards with this technology can be activated and duplicated from a distance, causing security issues for important data like banking information. Traditional wallets are no longer safe to use – and the Ekster Wallet blocks out all signals with its aluminum cardholder, keeping users fully protected against any data theft.
Pricing and Availability Ekster® has added a new product to the line and has released three new colours. The range of models and colours includes the Parliament Wallet, Senate Cardholder and the Secretary Cardholder.
About Ekster®
Ekster aims to provide innovative solutions for organized access. With a collection of smart products designed for an efficient and secure everyday carry, they strive to safeguard your daily accessories in the most stylish manner. Since their first Kickstarter campaign three years ago, Ekster has doubled in size every year and become the mostsold smart wallet worldwide. After raising 7000% their initial goal and hitting the $1M
first-year revenue mark, they grew to become the biggest smart wallet manufacturer in the world. Their products are available in over 50 stores worldwide, including Macy's Herald Square, Selfridges and Dubai Mall. To learn more, please visit www.ekster.com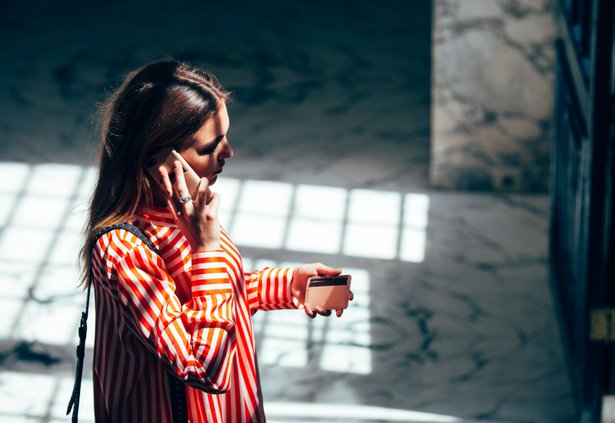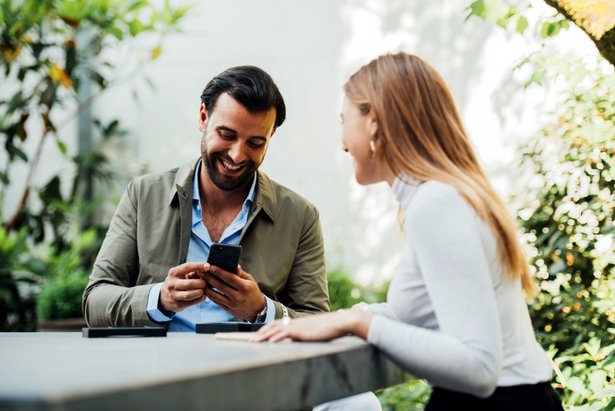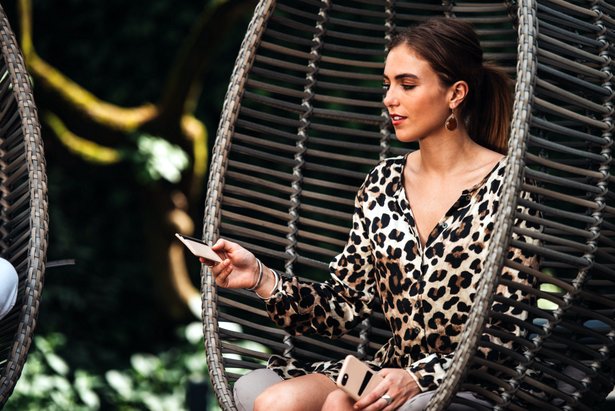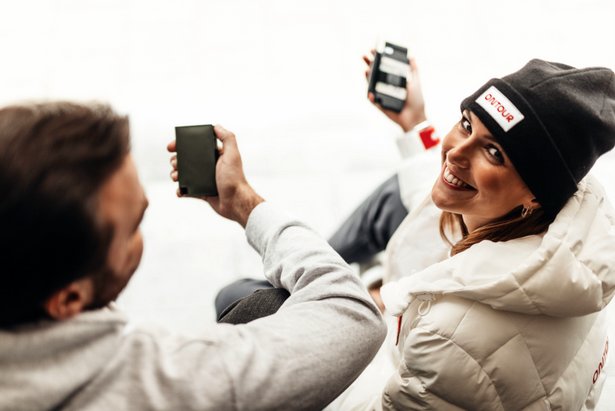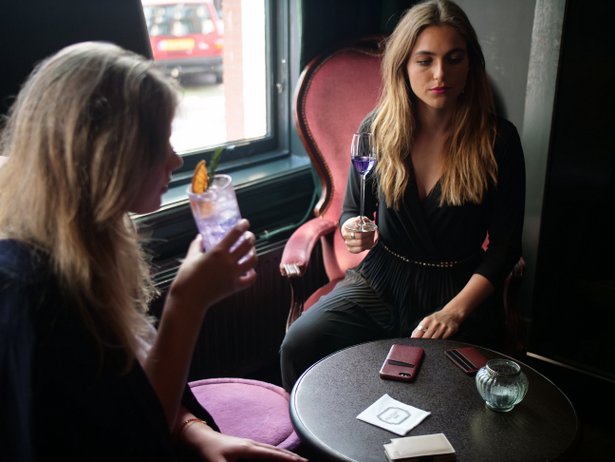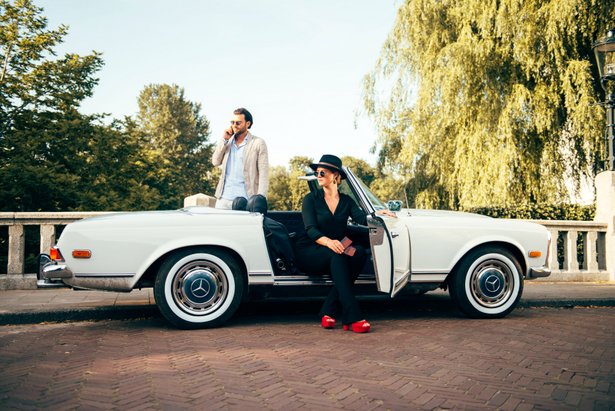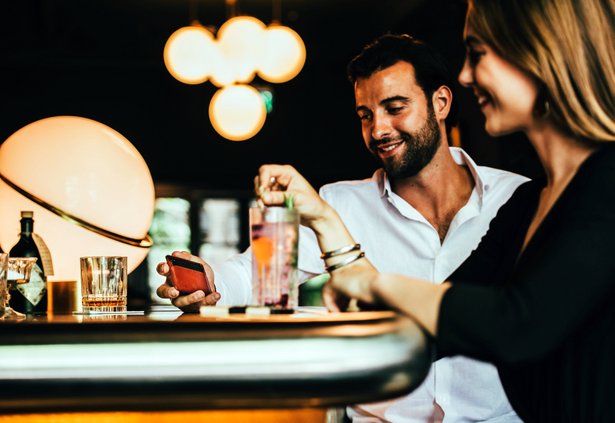 Sticker is Tile's most innovative tracker, launched a few weeks ago. The small, waterproof tracker has a 3-year battery life and an adhesive back meaning you can stick it on pretty much any item you don't want to misplace! The new and improved Slim, Pro, and Mate trackers now feature longer range, louder ring, and improved design, helping you to keep track of the things that matter most.
A Tile is a great gift for a friend or family member who is always losing something, or just for someone who likes to have peace of mind over their items.
FACEBOOK | TWITTER | INSTAGRAM | YOUTUBE
Tile Sticker – RRP £34.99 for 2
Available from: Tile.com, Amazon, John Lewis & Argos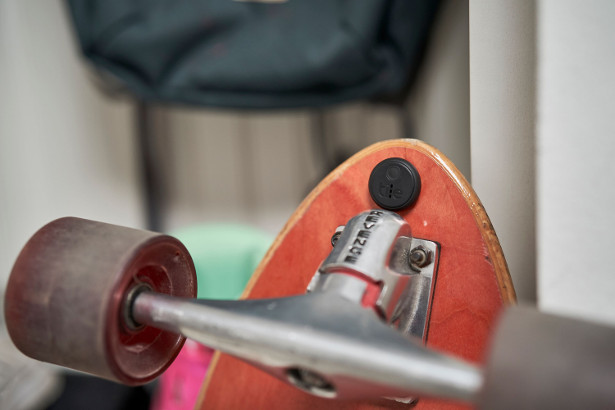 The new Sticker is the easiest tracking solution of all. Small and waterproof with adhesive back and 3-yr battery life, the Sticker provides long term convenience for busy individuals and families. It's a cost-effective and effortless tracking solution, especially for multiple items.
Tile Slim – RRP £24.99
Available from: Tile.com, Amazon, John Lewis & Argos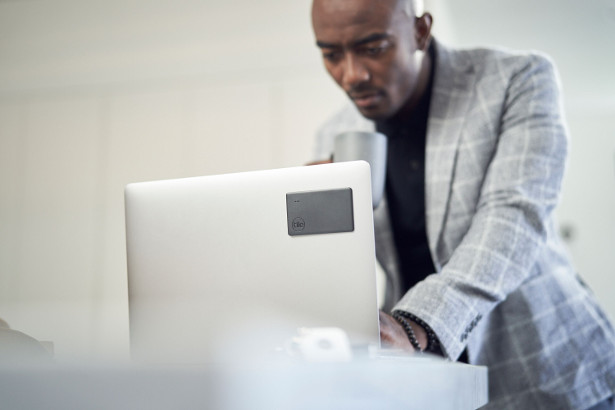 The new Tile Slim now comes in the shape of a credit card, making it ideal for use cases that require a low profile design. Though discreet in shape and size Tile Slim packs a lot of power, boasting a full three years of battery life, and twice the range (200ft) and volume of the original Tile Slim.
Tile Pro – RRP £29.99
Available from: Tile.com, Amazon, John Lewis & Argos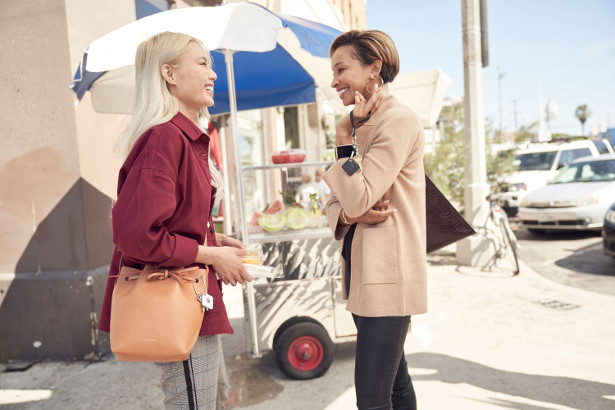 The new Tile Pro is Tile's most powerful Bluetooth tracker. Created for those who value high performance, durability and strong design. Now featuring a 400ft range and loudest ring so no matter where your things are, you'll find them.
Tile Mate – RRP £19.99
Available from: Tile.com, Amazon, John Lewis & Argos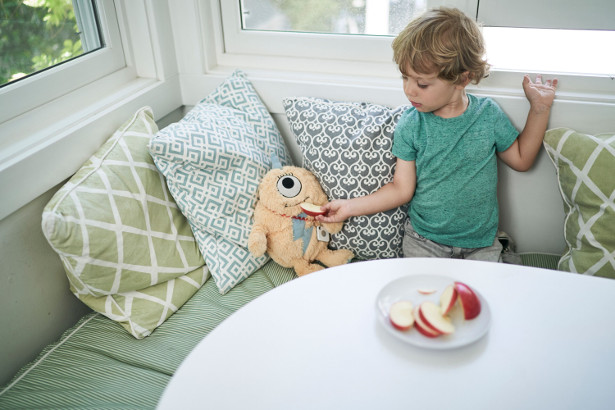 The new Tile Mate is perfect for the essentials in your daily routine. Mate now comes with a longer 200 foot range, making it easier to use and more reliable.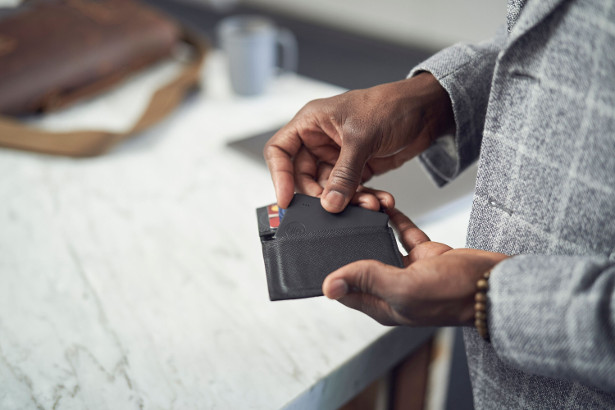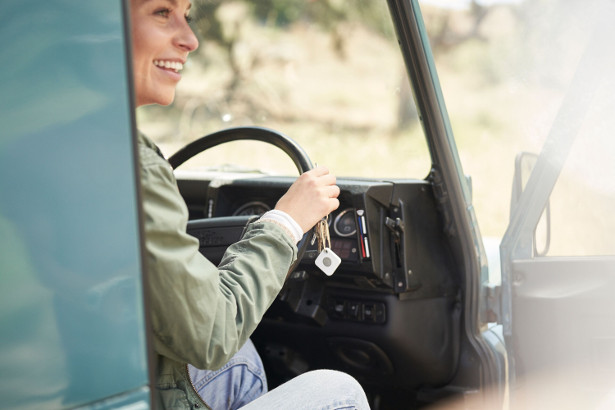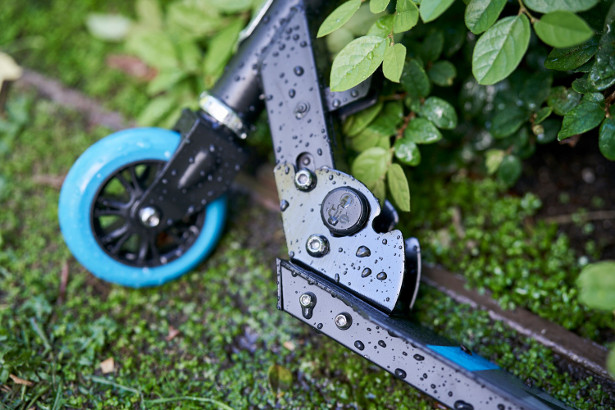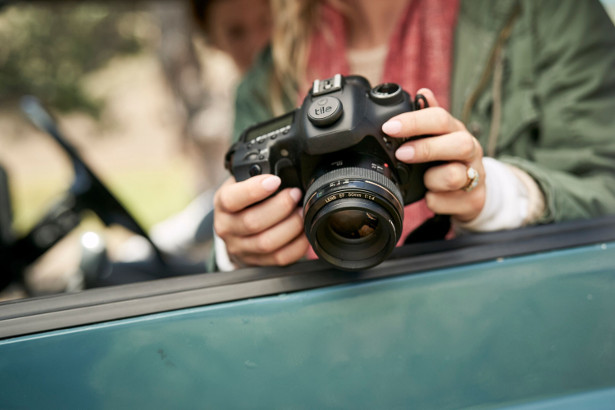 There isn't a better feeling than wearing a unique Handcrafted Nacklace which you know to be the only one in existance, with FioridiLilla.com you can have that feeling every single day, you can find a huge selection of creations made by Susanna, a Jewelcrafter from Italy that transformed her passion into a full time occupation!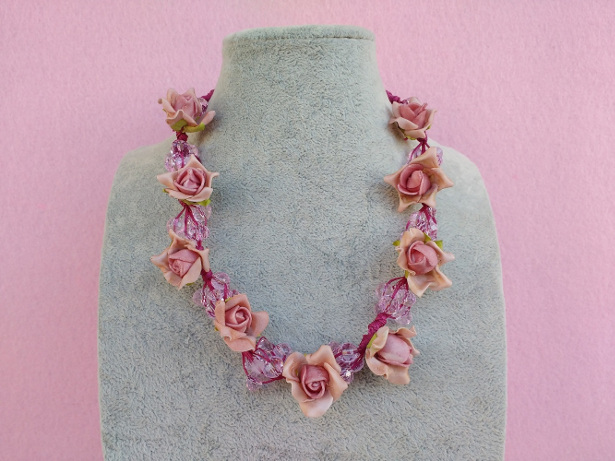 You'll for sure be able to find a Jewel that matches your style, like Necklaces created with Flowers made in Velvety Paper, Glass an Crystal Beads for a warm feeling that embraces your neck, or perhaps a lovely short Necklace with Striped Fucsia Agate to brighten your day with the beautiful colour of real Hardstones.
Weird but true! 2020: wild & wacky facts & photos! by National Geographic Kids!
On Amazon Here
This bulging compendium is loaded with jaw-dropping, eye-popping, brain-bending facts and bright, bold photography!
It pairs the planet's weirdest facts with the coolest and strangest true stories. From amazing asteroids, killer plants, peculiar puffins and wonderful wombats, to the world's tiniest buildings, lost cities and strangest sporting heroes.
With engaging infographics and lots of fascinating fact files, this National Geographic fact book for kids explores animals, geography, biology, human achievement, and more. Whether it's bizarre beaches, cool cable cars, floating buildings, or brilliant bugs, this all-new 2020 annual is sure to entertain!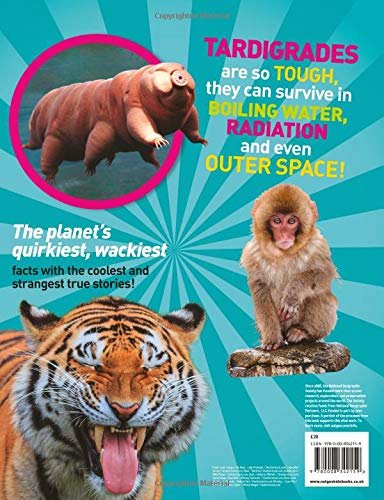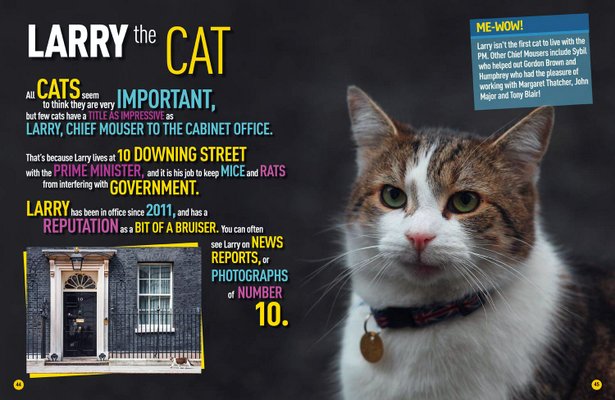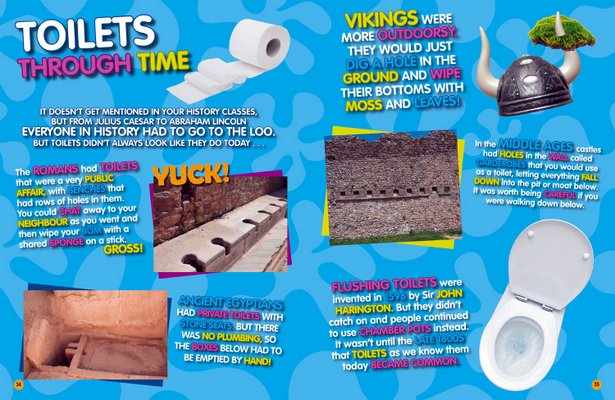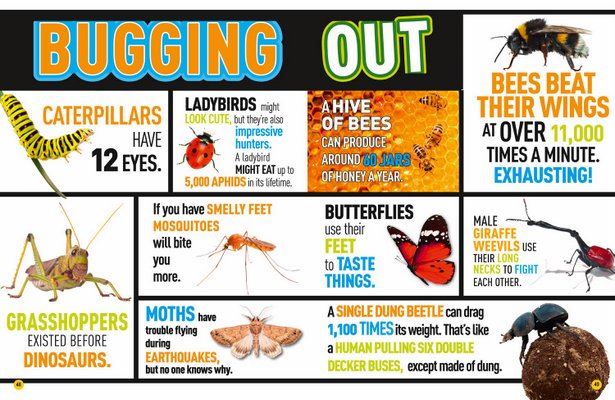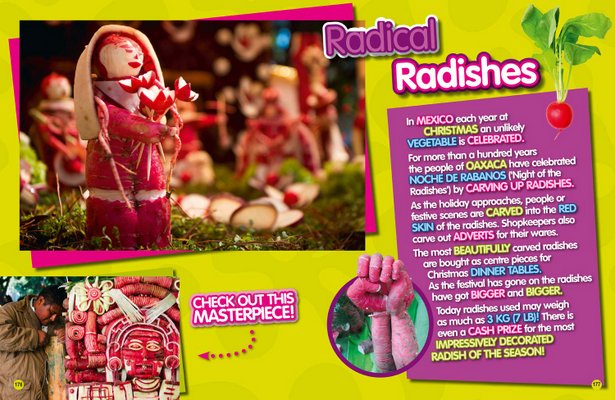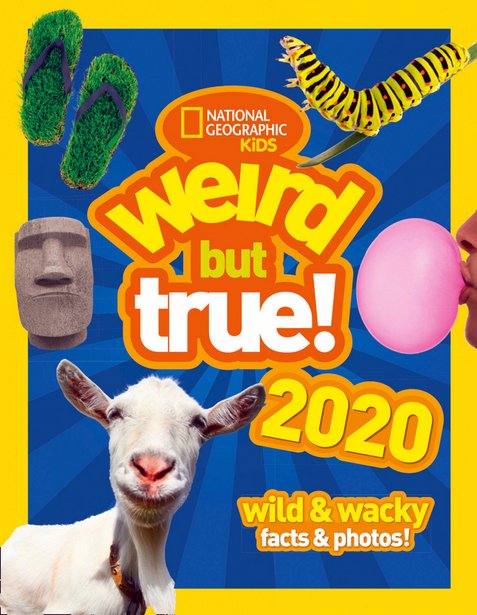 To the Moon and Back: My Apollo 11 Adventure (National Geographic Kids) Hardcover – 18 Oct 2018
by Buzz Aldrin with Marianne Dyson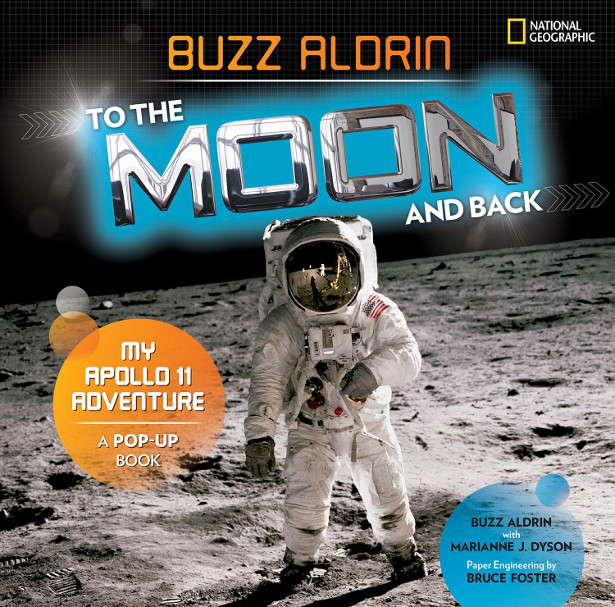 On Amazon Here
In celebration of the Apollo 11 Mission's 50th Anniversary, experience the awe and excitement of humankind's first steps on the moon! In this exclusive, exquisite pop-up adventure, readers follow astronaut Buzz Aldrin's story as he encounters the "magnificent desolation" of Earth's only satellite first-hand.
Paper engineer Bruce Foster brings to life what it was like to blast off into space and take the first steps on the moon through intricate pop-ups and paper folds.
Including Buzz Aldrin's firsthand accounts of the mission, historical context, stunning images, and unique personal perspectives, this book is an informative and collectible work of art – perfect for budding astronauts and grandparents hoping to share their memories of the moon landing with the young explorers in their lives.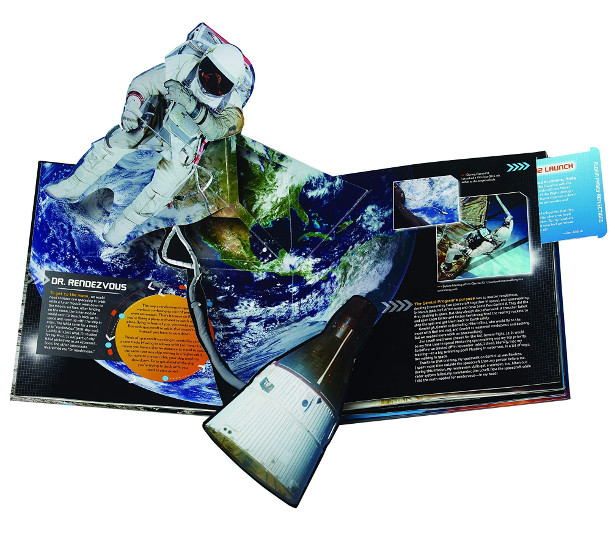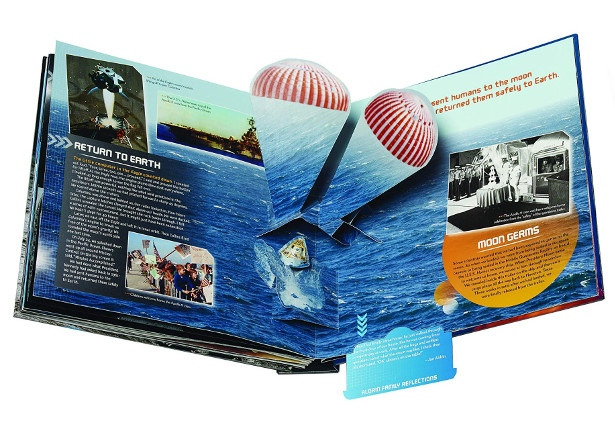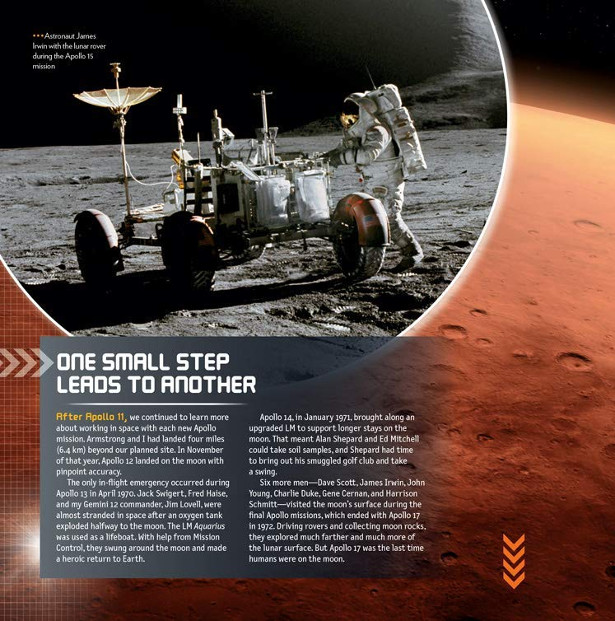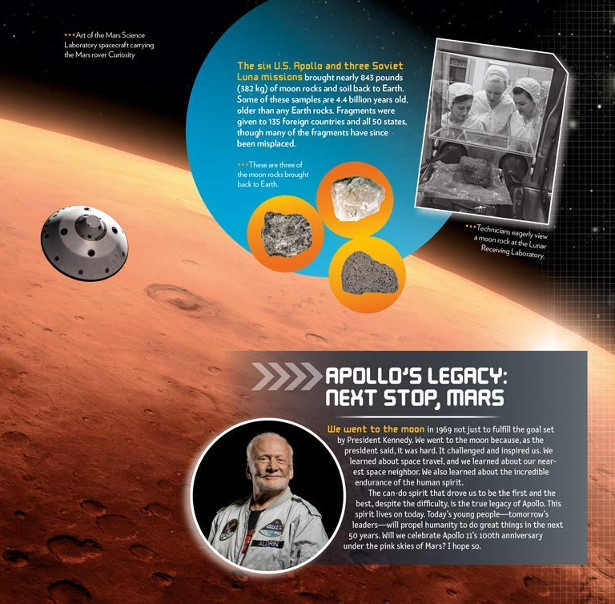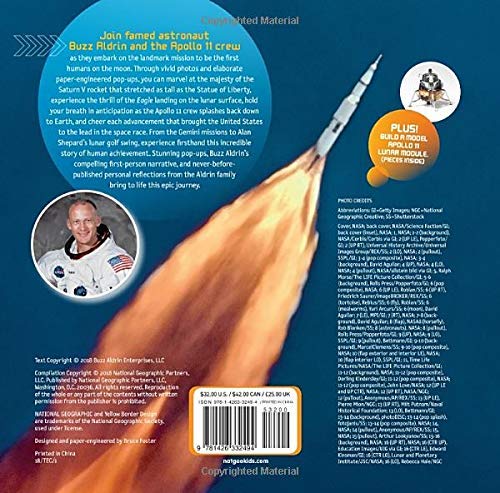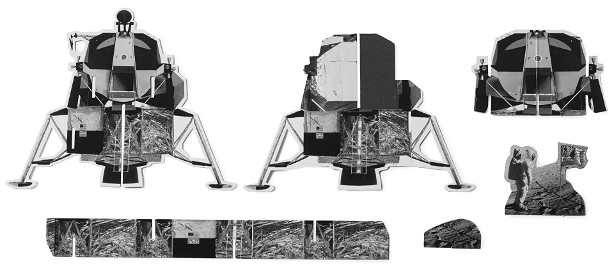 On Amazon Here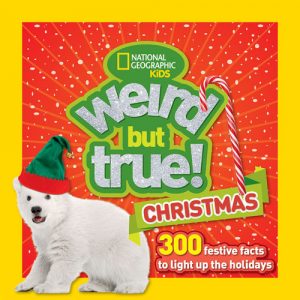 Weird But True! Christmas
Get ready to celebrate the holiday season with wacky facts, stats, titbits, and traditions about the most wonderful time of the year. Did you know that Santa's reindeer are probably all female? Or that artificial snow can be made from seaweed? Or that -Jingle Bells- was the first Christmas carol sung in space? Every kid will ho ho ho when they unwrap this fun and festive little gift book, perfect for stocking stuffers or under the tree.
Stocking Filler From www.natgeokidsbooks.co.uk. Enriching kids lives with wonderful nature! Puzzle Book Dinosaurs FACT-PACKED FUN!
Puzzle Book – dinosaurs, a fact-packed fun book of dinosaur themed puzzles – 7+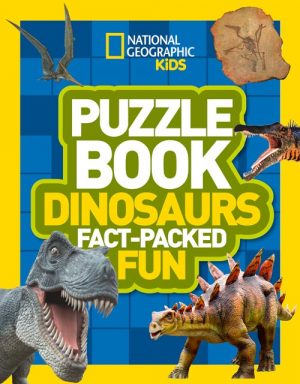 Test your knowledge and get thinking with this fact-packed National Geographic Kids fun book of dinosaur themed puzzles. T-Rex, diplodocus, velociraptor, stegosaurus, pterodactyls and more: all the favourite dinosaurs are here!

An Unconventional Gift for Men Yes but so thoughtful… www.promtpgs.com . The Prostate Cancer Screening Service.
FACEBOOK | INSTAGRAM | LINKEDIN
Grooming gifts are always a great go-to, but this year gift givers are redefining self care for men from beard oil and shave kits to health related gifts men didn't even know they should be thinking about. Show you care and give the unconventional gift of Prompt Prostate Genetic Score (PGS) – the simple at-home test to evaluate a man's genetic predisposition to prostate cancer. It might not be fun topic for the dinner table, so let Prompt do the talking and use this self care gift as a conversation starter to make sure the men in your family are making informed and proactive decisions about their health.
The at-home test is as easy and delivered straight to your door. With a simple to use cheek swab kit – at any age the test can monitor and identify those with genetically high-risk who may benefit most from a prostate cancer screening as early detection is key.
Prostate cancer is the second leading cause of cancer deaths in men despite being curable with early detection, so be the gift giver that cares. Founded by a leading urologist concerned about controversy around PSA testing leading to delayed diagnosis and increase in incurable disease, Prompt focuses on reversing that trend one strange stocking stuffer at a time.
About Promt PGS.
Evaluating Man's Genetic Predisposition to Prostrate Cancer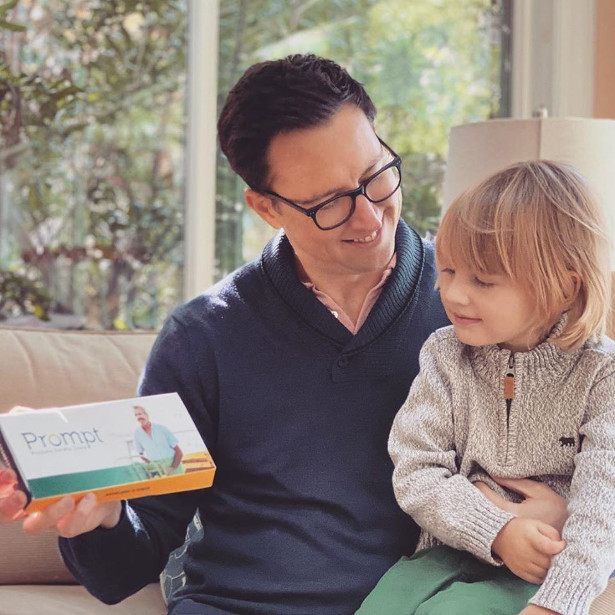 Despite being curable with early detection, prostate cancer remains the second leading cause of cancer deaths in men. Due to controversial recommendations about the common screening tool, called PSA, early detection rates and prostate cancer screenings are declining. At the same time, the number of men with incurable disease is on the rise.
Regular screening has been recommended if you are at high risk — but how do you know your individual risk? Relying on family history alone may not be enough.
Prompt® was designed to provide men, along with their families and clinicians, with the knowledge to make informed decisions about their health.
Prompt is currently validated only in Caucasian men, though testing for additional ethnic origins is in development.
Prompt, is a major advancement in evaluating a man's genetic predisposition to prostate cancer. This simple test, performed with a cheek swab sample, at any age, can help men know their individual risk for prostate cancer and may identify high-risk men who might benefit most from prostate cancer screening.
Our genetic test encourages men to be actively involved in the development of their personalized prostate cancer screening approach at an early stage.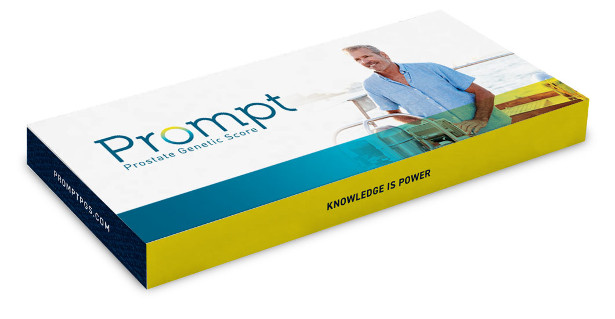 Autumn Eves
& Tuscan Olive Oil Cake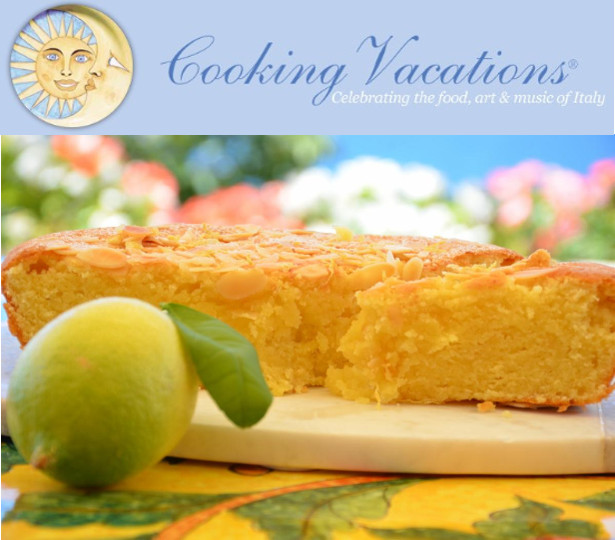 November days have us bottling the last of our olive oil, harvesting beets, broccoli and pumpkins, shelling walnuts and making preserves with Annurca apples (a variety indigenous to Campania and believed to be used by Pliny the Elder). As Indian summer days wane into autumn eves, we are keeping ourselves busy with cooking and baking and test-kitchen tastings.
Cooking in the rhythm of the seasons is a way of every day life in Italy. It's a time to use last year's olive oil too before the new oil arrives — because in Italy, there is no waste at all.
Join us in the kitchen as we prepare a delectable Tuscan olive oil cake. It can be served for breakfast alongside a creamy cappuccino or caffè or also topped with gelato.
Olio Nuovo
Our olio nuovo, new olive oil, is in the process of being put into green glass bottles (never plastic). Our oil is extra virgin, first-cold-pressed (without heat because heat renders more oil, but it also degrades the quality) using Leccino, Curatora, Frantoio & Coratina — four varieties of olives that grow in Campania.
The fruits have been tenderly cared for all year long by our grower, Signor Salvatore, (without using additives or chemicals) in a small private olive grove with 600 trees that are over 100 years old.
The yield is approximately 14 liters of olive oil for every 100 kg of olives, but it varies each year depending on the harvest.
The olives are hand-picked when ripe sometime between September to October (depending on the season), then pressed immediately. When the olives are not pressed right away they oxidise and this increases the acidity level.
In order to qualify as extra virgin, the oil undergoes a chemical test and a sensory evaluation by a tasting panel of the International Olive Council.
Our extra-virgin olive oil has a very low, 0.20% to 0.25%, acidity (acidity refers to the amount of oleic acid in the oil). In order to qualify as extra virgin, it needs to have 0.50% acidity.
Olive Oils
Lemon, Rosemary & Chili Pepper
We also produce lemon, rosemary and chili pepper infused oil. The process is the same, the only difference is that lemons, rosemary or chili pepper are also crushed on a cold press with the olives. The pits, peels and residue are removed before bottling (to avoid the acidity level from rising because olive oil is acidic and will cook anything that is left it it). Keep your olive oil in a cool dry place, away from sunlight and not on the stove, and never in the fridge.
Our olive trees grow in rich volcanic soil, under a warm Mediterranean sun, with a salty sea wind – and that's why they taste so good!
Recipe Card
Olive Oil Cake
Ingredients
2 lemons, unwaxed
⅓ cup of olive oil (not extra virgin) ~ just regular olive oil.
½ teaspoon of organic lemon extract
2 cups all-purpose flour
1 1/2 teaspoon baking powder
1/2 teaspoon baking soda
Pinch of sea salt
4 large eggs
¾ cup Turbinado sugar
Sliced, toasted almonds for garnishing
Method
Preheat the oven to 175°C (350°F). Lightly grease a round cake pan of about 9 to 10 inches. Cut off the ends of the lemons then chop into small pieces. Place them in food processor and blend. Add the oil and lemon extract.
Mix the dry ingredients: flour, baking powder, baking soda and sea salt in a mixing bowl. In a separate bowl, beat the eggs until fluffy, then add the sugar.
Slowly add the egg mixture to the dry ingredients, a little at a time, then gently fold in the lemon and oil mixture. When all of the ingredients are mixed well, pour the batter into the pan and bake for about 55 minutes. (Test with a very thin skewer, and when it comes out dry, the cake should be ready.) Remove from oven, leave to cool, then garnish with powdered sugar and lemon slices or leaves.
Happy Baking
"It's that time of year 🌺 spring has sprung……. hens party, girls weekends, mama getaways, family holidays 🎉….. we have the perfect , stylish, comfortable, flattering #loungewear and #pyjamas with wire-free breast support, so you can wear them everywhere! 😁 #pjsallday With no sag or bounce and the #comfort and #freedom of being #brafree – we've got you covered – double layered coverage and support in pure cotton. You're welcome! 🤗💋😘"
www.bjspjs.com.au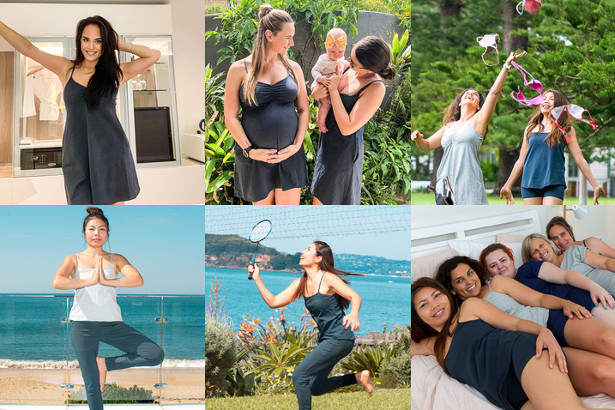 LIFT THE LID ON CLARIDGE'S CHRISTMAS HAMPERS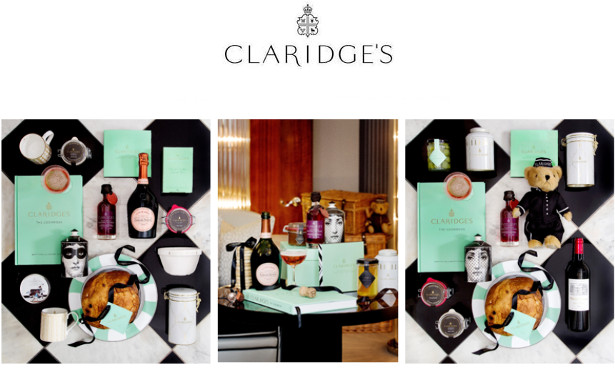 The iconic Mayfair hotel presents a carefully curated collection of hampers, hand packed with artisan, home-made and exclusive to Claridge's gifts.
Many of the treats inside follow secret recipes, handed down from generations of Claridge's chefs.
Others have been expertly selected by Executive Chef Martyn Nail and the Claridge's team to reflect the very finest of this magical season. Explore each hamper below.
Mews Hamper £150
This delightful mini wicker offers Christmas cupboard necessities – champagne truffles, vanilla shortbread biscuits (of which the hotel cuts 7000 a month),
jam, sweets, the bespoke blend tea which is served daily at Claridge's and a delicious bottle of red.
A set of two Claridge's Crackers in signature art deco monochrome chevron snap to reveal keepsakes found in the hotel.
Grosvenor Hamper £250
This non-alcoholic (but nonetheless indulgent) hamper holds sweets and savouries for festive cheer.
Honeycomb from Shropshire drenched in light and delicious honey has been selected exclusively for Claridge's by The London Honey Company, alongside an organic lightly spiced pear chutney which will elevate game or cold meats. Espresso Coffee Beans used throughout the hotel
have a velvety texture and a deep flavour, paired perfectly with Claridge's Florentines and Christmas Cake.
Brook Hamper £250
This celebratory hamper houses fine fizz and an iconic pudding, alongside other festive treats. Laurent-Perrier present an exceptional vintage with a delicate aroma of citrus and white flowers.
A bottle of Château Traquet partners the Claridges' Christmas Pudding, a century-old secret recipe presented in a 'Christmas 2019' Claridge's china bowl, wrapped in muslin, ribboned and boxed in signature jade.
Davies Hamper £495
Filled to the brim with Christmas spirit and the magic of Claridge's, the Davies hamper contains fine tea, coffee, sweet snacks, cake and pudding, and is particularly good for a tipple.
For Christmas cocktail hour, The Fumoir bar's Negroni is mixed and bottled ready to pour over ice with an orange twist, sealed with a wax stamp and Claridge's crest.
Also essential to any cocktail trolley, are the ultimate olives courtesy of Nocellara del Belice which Claridge's feature in their classic martini.
Mayfair £795
The biggest, and ultimate, hamper. Every Christmas treat is nestled within, from a handpicked edit from the Claridge's cellar including Laurent-Perrier rosé champagne and a classic Sancerre ideal for pairing with smoked salmon on the big day,
to everything one needs for a Christmas breakfast. Fine bone china mugs embellished with art deco motifs and the Claridge's crest elevate any teatime. A candle by Fornasetti – the most exclusive Milanese perfume house – is a standout
gift with the scent which fills the air in the famous lobby at Claridge's. A jade box of six crackers ensure any Christmas table is impeccably dressed – inside are luxurious presents including a mother of pearl caviar spoon,
a china Claridge's egg cup, a bone honey drizzler and chamming anecdotes from the archives. Budding cooks will appreciate the Claridge's Cookbook, full of carefully-chosen best-loved recipes from Executive Chef Martyn Nail, and Claridge's embroidered apron.
Last order date for UK deliveries – 20th December 2019
Last order date for other destinations – 12th December 2019
Davies, Brook and Grosvenor Hampers are available to ship to UK, Austria, Belgium, Czech Republic, Denmark, Finland, France, Greece, Gurney, Hungry,
Ireland, Italy, Jersey, Luxemburg, Netherlands, Poland, Portugal, Spain and Switzerland.
Mayfair and Mews hampers are exclusive to the UK.
TRINITY TRAINING IS ON THE BALL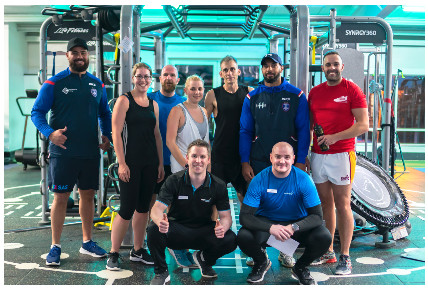 Wakefield Trinity players, Ryan Atkins and David Fifita, led a public training session at Total Fitness
Total Fitness members received a free functional fitness workout with the rugby pros
The circuit-style training involved full body, cardiovascular and toning exercises
WAKEFIELD TRINITY players gave back to the community last week by teaming up with their local health club to teach members how to train like a pro-rugby player.
Partnering with Total Fitness Wakefield, rugby centre Ryan Atkins and prop David Fifita took to the gym floor with Total Fitness trainers Adam Bott and Richard Hodgson to deliver a high-energy functional fitness workout to members of the health club.
Using state of the art Synrgy 360 training rigs, the rugby pros and personal trainers implemented two 30-minute circuit based workouts using battle ropes, prowlers, slam balls and more, to deliver an all-encompassing workout.
After demonstrating the correct use of equipment for each activity the professionals coached the club members on their form, offering advice on how to get maximum results from each exercise.
Amongst the health club members was schoolboy and die-hard Trinity fan, Joe Hurdus, aged 12, who jumped at the chance to meet his rugby heroes. Joe comments: "When my mum told me that Ryan Atkins and David Fifita were doing a free training session at our health club I was so excited. I love rugby and I have been to loads of Wakefield Trinity matches with mum and dad, so getting to meet the players and actually workout with them was amazing."
Adam Bott, fitness manager at Total Fitness Wakefield, says: "Everyone involved had a brilliant time – Ryan and David are great guys and are both in fantastic shape, so it was a real pleasure to teach a functional fitness class alongside them."
Atkins, adds: "The boys have been training at Total Fitness for a few years now, so it's been great being able to give something back to our local community. We'll definitely be coming back to do more sessions at Total Fitness in the future, too."
Total Fitness is the leading mid-market health club in the north and provides more ways to get fit, stay in shape, and more support to keep members focused. With 17 health clubs across the North of England and Wales, Total Fitness provides a full-service fitness offering; guided by knowledgeable and supportive fitness teams, the brand works hard to meet the individual needs of its members.
For more information, please visit: www.totalfitness.co.uk
Give the gift that keeps giving this festive season >> www.wonderbagworld.com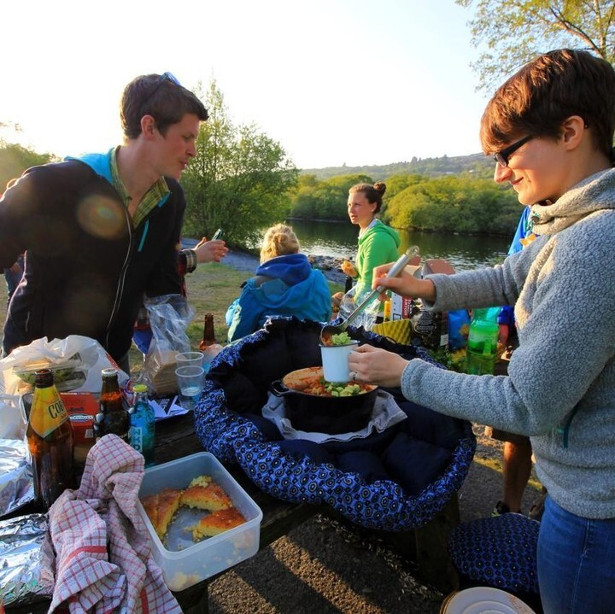 FACEBOOK | INSTAGRAM | YOUTUBE
The upcoming festive season is known as the 'season for giving'. So, what better time to think about how we can truly 'give' in a way that makes a positive and powerful impact on our communities and the environment than now. 
Last year the Wonderbag was voted as Time Magazine's Top 50 Genius Companies because of its simple but truly revolutionary product benefits that have made it internationally recognized as a catalyst for change and a viable solution to offset carbon emissions. This proudly South African, award winning slow-cooker continues to cook food, which has been brought to the boil by fire, stoves or any conventional method, for up to 10 hours without the use of any additional fuel source. Put very simply, the Wonderbag saves time, money and the planet while adding nutritional value to families who use it.
With loadshedding being an ongoing reality and a pressing issue in our country that is unlikely to go away anytime in the near future – it's more important than ever to find and use workable solutions like the Wonderbag to overcome this challenge. 84,7% of South African households are currently connected to the electricity grid. *Studies have shown that families who use a Wonderbag to cook rice could save 35 minutes of electricity time by just bringing this food to the boil on their stove for 5 minutes and placing it into a Wonderbag for the remaining 40 minutes without risk of burning. This equates to a saving of 35 minutes of possible stove time. With the same principle in mind, families could also save approximately 2 – 3 hours of electricity when cooking chicken on a stove just by using a Wonderbag. With the cost of living increasing, and Eskom's electricity tariffs having increased by over 300% in the last decade, it's no surprise that more and more of the population are converting back to bio-mass for cooking. Currently 50% of the human population still cook on open fires, with 73% of sub-Saharan Africa's urban population and 94% of its rural population using open fires to cook their daily meals on. All the wood, charcoal and other bio-mass being used to fuel these open fires are now adding to another major problem we all face – climate change.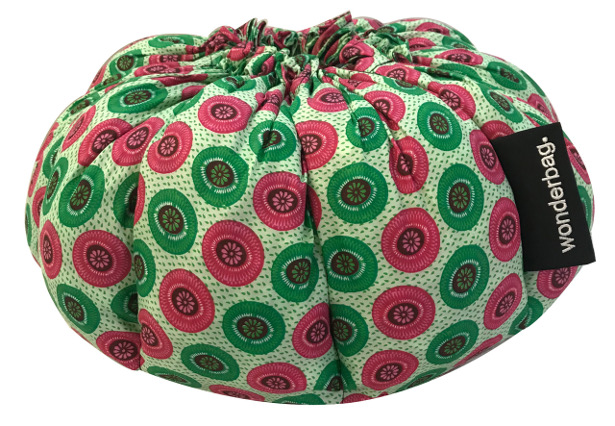 On a global scale climate change is throttling our planet. Every tree and every forest are becoming endangered. Not only does the threat of deforestation raise huge concerns for the sustainability of our planet's precious resources – but accordingly to Foley's study (1985), cutting down trees both adds carbon dioxide to the air and removes the ability to absorb existing carbon dioxide. The estimated consumption of firewood per person is between 750 – 900kgs per year. South African greenhouse emissions per capita remain amongst the highest in the developing world. We have a responsibility to our country, our planet and our future generations to reduce carbon emissions. 
The world is looking for solutions, and one of them is right under our noses. Entrepreneur, social activist and innovator Sarah Collins took an age-old cooking technology, that of simple heat retention, and reinvented it into a modern-day, life-changing, sought-after kitchen accessory, found in both the poorest and most affluent of homes around the globe. For such a simple and seemingly 'low tech' cooking appliance – the impact and benefits when the Wonderbag is used are of far-reaching and gigantic proportions. That's why the Wonderbag has won so many awards. That's why Times Magazine recognized Wonderbag along with Apple and Amazon as one of the most Genius Companies in the world in 2018. And that's why we are urging all South Africans this festive season to buy one and give a gift that keeps on giving. Whether it's for a family member, someone you work with or for someone who works for you, the impact of your small actions this year of giving them a Wonderbag can be enormous.
This year's festive season specials are available online today at www.wonderbagworld.com
WALLACE & GROMIT AND JOULES BOTH CELEBRATE THEIR MILESTONE 30TH YEAR IN 2019.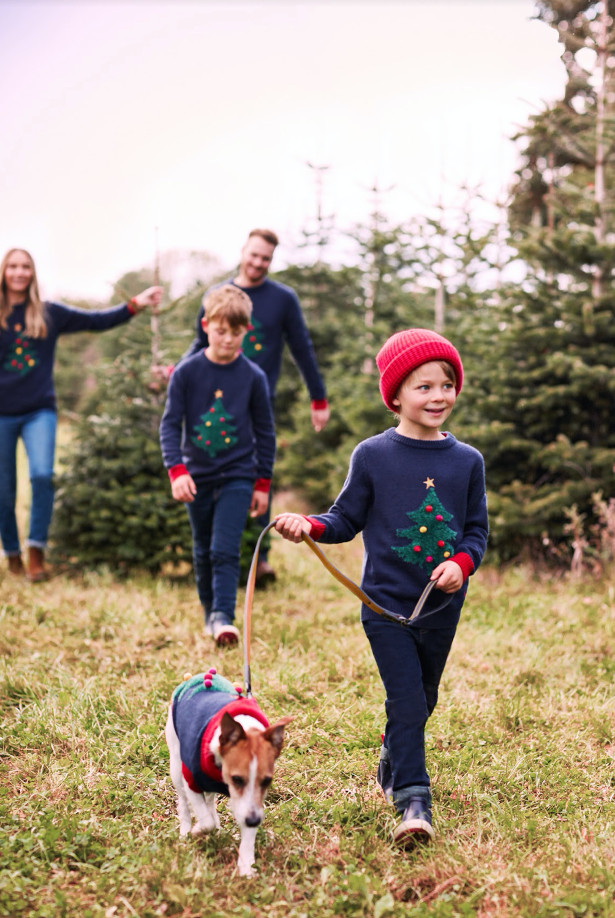 Multi award-winning studio Aardman and the premium British lifestyle brand, Joules have joined forces this festive period to celebrate a huge milestone: 30 Cracking Years of Wallace & Gromit and Joules' 30thbirthday.
To mark the monumental occasion, the two heritage brands have teamed up for a Christmas campaign with an original animation as the centrepiece. Wallace, in his true inventive style, brings Christmas to West Wallaby Street all at 'the click of a button'. Joules festive products decorate the living room and there's no escape for Wallace's loyal side-kick, Gromit, who becomes the pièce de résistance as the fairy crowing the top of the Christmas tree.
In the 30 years since Wallace & Gromit first appeared on screens, the duo have become synonymous with Christmas, as a regular highlight of the primetime TV schedules during the festive season. The bespoke Joules x Wallace & Gromit advert has been directed by Aardman's Merlin Crossingham, creative director of Wallace & Gromit in the traditional time-honoured method of stop-motion animation.
A selection of Joules best-sellers and most-loved products were recreated in miniature by Aardman's talented model makers to take pride of place in the scene. Complete with Crown Joules boxer shorts on the fireplace and the renowned wellington boots, sported in great style by Gromit himself.
Aardman's Rachael Peacock, Wallace & Gromit Brand Manager comments: "We're thrilled to have secured a partnership with a retail brand over the festive period, especially in the duo's 30th year. The British heritage of Joules and Wallace & Gromit is undeniable, so we're delighted to collaborate on this charming campaign brought to life with brand new animation."
Tom Joule, founder of Joules comments: "With Wallace & Gromit and Joules both celebrating our 30th birthdays, it was an easy decision to spend Christmas together. We're delighted to have such British icons wear Joules and star in our Christmas advert and hope it will bring a little festive cheer to all of those who watch it. We've got a superb range of both classic and festive clothing and homeware gifts for all the family – including for Gromit and all of our canine chums."
Elu Roze Quartz Face Roller and Gua Sha with travel pouch: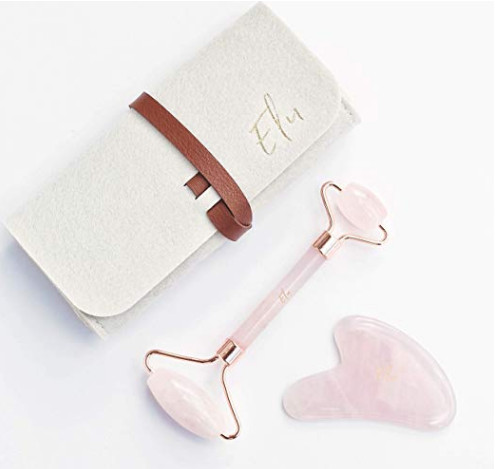 Rose quartz is a natural stone that awakens emotion and femininity and is also considered a stone of heart and love. At the same time, it also serves as a means of neutralizing the effects of polluted environments. Everyday stress is reflected in our complexion, facial muscles are in constant tension. The rose roller massage roller transfers the natural energy of the stone, helps keep the skin elastic and restores its youthful appearance. It improves blood circulation, promotes the functioning of the lymphatic system and relaxes the facial muscles. Reduces dark circles and swelling around the eyes and relieves headaches. The massage roller can also be used to massage the neck to remove the double chin. It also helps to more effectively absorb serum and creams. Gua sha stone is designed to massage the face to detoxify, reduce wrinkles, remove skin inequalities and circles under the eyes and eliminate red veins. Regular gua sha massage can replace invasive facelift interventions in the face. Massage also relieves the tension of the facial muscles and blood circulation to the skin.
The electric toothbrush by ION-Sei is no ordinary toothbrush and is taking dental care to the next level.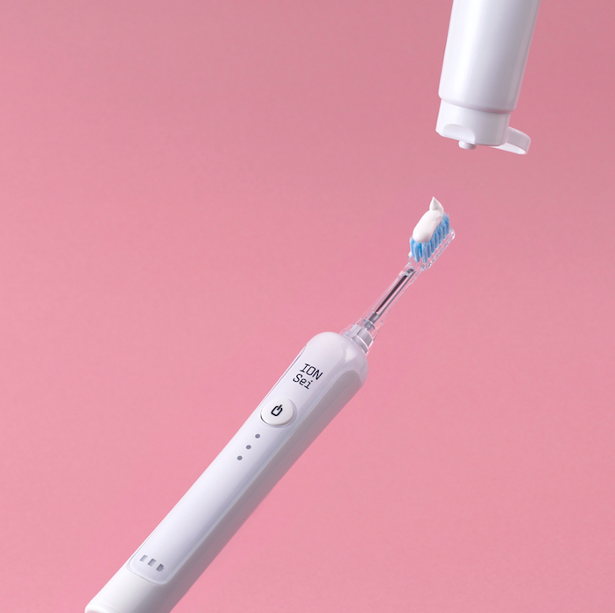 The ION-Sei electric toothbrush uses an Ultra Violet (UV) LED light that reacts with a Titanium Dioxide bar in the brush handle, to create ions that suppress the bacteria that cause plaque. The negative electrons are sent to your mouth via water or saliva. (This means that if preferred you don't actually need to use toothpaste)
Boasting a holistic German design inspired by Japanese culture and nature, the ION-Sei is the perfect product for the health-conscious thanks to a patented ionic technology creating a longer-lasting and deeper clean.
ION-Sei is priced at £129.99 at Harrods.
Radiant Rose, £30.50, includes: Rose Day Cream (30ml), Soothing Cleansing Milk (30ml), Facial Toner (30ml).
Available here: www.drhauschka.co.uk/natural-skin-care/facial-care/gift-set-radiant-rose/
The perfect presents from Gtech for a stress free Christmas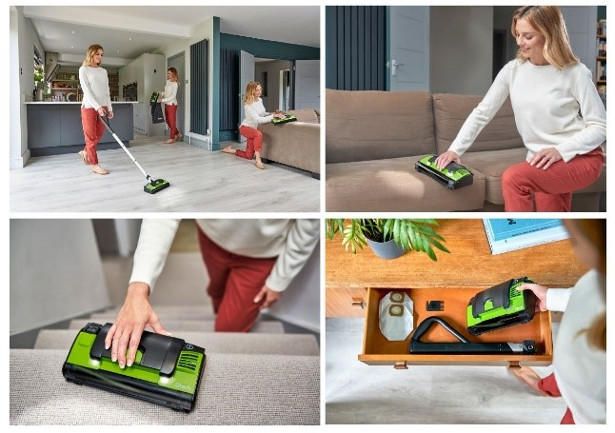 The MYO Touch – where technology meets tranquility …
The new MYO Touch, from award winning specialists in cordless home technology Gtech, is an automated massaging bed. Underneath a comfortable contoured bed is a powered robotic massage roller that seamlessly glides along a track. The intensity of the massage can be personalised from so light you can barely feel its touch to deeply invigorating. You can simply lie back and enjoy a full-length massage or target problem areas such as your back, arms or legs.
The massage bed has been engineered to bring relaxation and calmness into your day and enable you to enjoy a massage in the comfort of your own home whenever you need it.
MYO Touch is quick and easy to assemble allowing you to set up your massage space in minutes. In addition to this, you will also get access to Gtech's audio library with four 15-minute tracks to help you unwind, whether it's rainforest sounds, mindful podcasts or guided meditations, all downloadable on your smart phone or tablet. The bed folds down easily and can be packed away for simple storage for use next time.Christmas gift.
The Gtech MYO Touch is available now at www.gtech.co.uk RRP £299.99
The super small but super powerful Gtech HyLite
The Gtech HyLite is super small, super lightweight with super high performance and is ideal for modern homes as it's packed with design and technology features that make usage and storage simple and environmentally friendly.
It weighs just 1.5kg, has 20 minutes running time and the handle extends and retracts instantly, transforming the HyLite from an upright to a handheld vacuum in seconds.
It uses just 90 watts of power, but packs a punch when it comes to its cleaning capacity, making its power and resource consumption extremely low. Storage is easy … the HyLite is so compact it can be kept in a kitchen drawer but is ready to use in seconds which makes it perfect for homes where space is limited.
The Gtech Hylite is available now at www.gtech.co.uk RRP £199.99
Winter is here!!
It's time for Digis – digital slap watch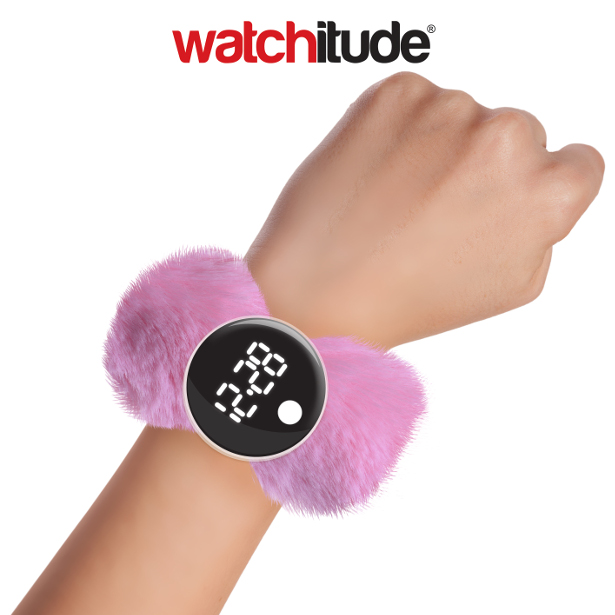 watchitude.com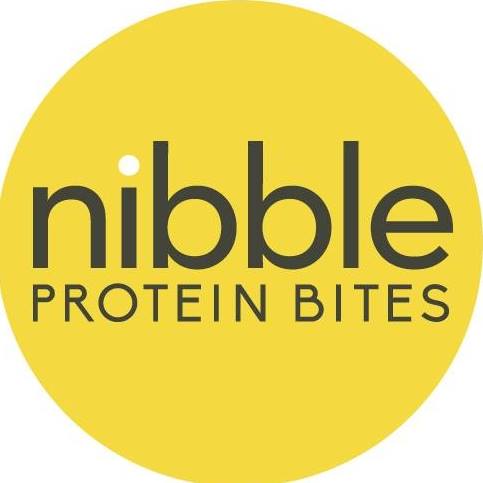 IT'S TIME TO DITCH THE DATES…
TRANSFORM YOUR SNACKING HABITS IN 2020 WITH NIBBLE PROTEIN, THE UK'S FIRST RANGE OF HIGH PROTEIN SNACKS MADE FROM DRIED PLUMS!
TWITTER | FACEBOOK | INSTAGRAM | LINKEDIN
Discover the future of healthy snacking and indulge in deliciously nutritious treats from Nibble Protein, the award-winning creators of innovative, lower sugar vegan protein snacks, which use antioxidant rich dried plums as a base, rather than sugar-laden dates.
Whether it be a mid-morning treat, or an afternoon pick-me-up, the irresistable Nibble Protein range is packed with genuine, natural goodness. Innovatively crafted using the finest low GI ingredients, including dried plum purée, these bites help to stabilise your blood sugar, keeping you fuller for longer, while maintaining your energy levels and boosting your concentration and mood. Unlike most healthy snack bars and balls on the market, these yummy treats contain just 1 gram of sugar per bite, a fraction in comparison to other leading brands.
Nibble's star ingredient is dried plums, used in place of the ubiquitous snack bar staple, dates. Not only do dried plums contain 40% less sugar than dates, they are also ranked as the #1 food for antioxidant power.
For a filling protein pick-me-up, which is perfect as a snack or part of a healthy breakfast, the range includes Nibble Protein bites, which are available in three delicious flavours:
LEMON with coconut: winner of the "Best High Protein and Sports Nutrition Product" in the 2019 Nourish Award, combines luscious Sicilian lemon oil and a sprinkling of dried coconut flakes for a fresh lemony taste. Great on its own or in yogurt or porridge for breakfast. • CHOC CHIP with 72% dark chocolate, a healthy take on an old favourite, containing 72% dark chocolate for a decadent and delicious taste. • SOUR CHERRY with a hint of orange, combines Morello cherries with sweet orange and a pinch of allspice for a unique taste explosion.
Made using allergen-free, sustainable pea protein, which is 'slow digesting' and more filling than whey-based products, Nibble Protein Bites contain 10 grams of protein* and just 170* calories per pack, making them the ultimate feel-good treat.
The latest addition to the range, Nibble Brownie Bites are a delicious, low sugar indulgence, available in three chocolate-inspired flavours:
CHOC ORANGE BROWNIE with 72% dark chocolate chips, winner of the Silver Free From Food Best Snack Bar Award 2019. This classic, decadent flavour pairing contains sweet orange and 72% dark chocolate chips for a match made in chocolate heaven. • MINT CHOC BROWNIE with cacao nibs, made with the finest mint oil and cacao nibs for an irresistible and delectable crunch. • CHOC WALNUT BROWNIE with walnut pieces, an all-American flavour combination with crunchy walnuts, smooth chocolate and a hint of vanilla for a healthy, naughty-tasting treat.
With less than 100 calories per pack and on average 45% less sugar than other leading healthy snacks, Nibble Brownie Bites are the healthiest lower sugar treats on the market.
The Nibble Protein range also provides a natural source of fibre to help keep your digestive system running smoothly. They are vegan friendly, gluten free and contain no added nasties, artificial sweeteners or preservatives, and are high in vitamins and minerals including iron, potassium, magnesium and vitamins K and A.
So, it's time to get on board with the next generation of healthy snacking and spoil yourself with a Nibble Protein lower sugar treat. You will never believe that healthy could taste this naughty, or delicious.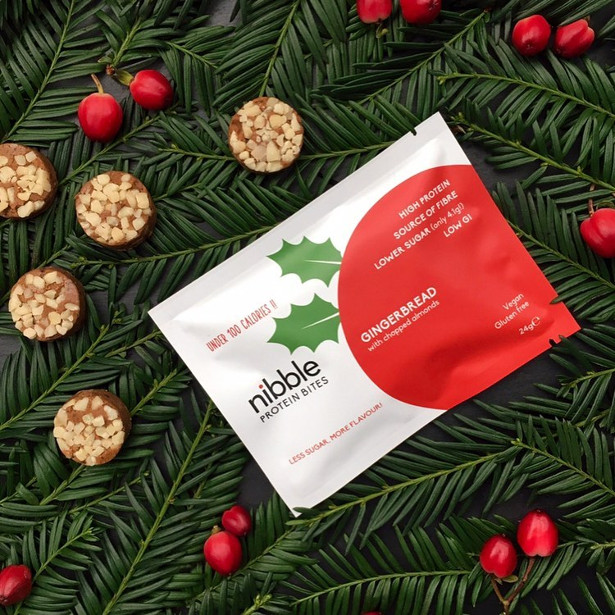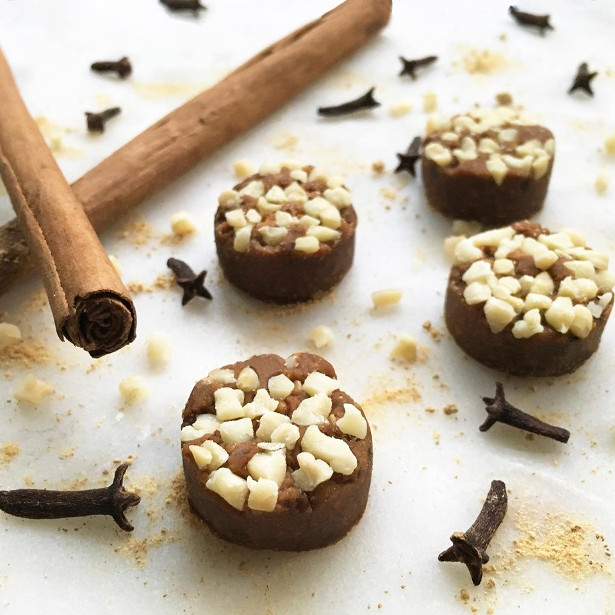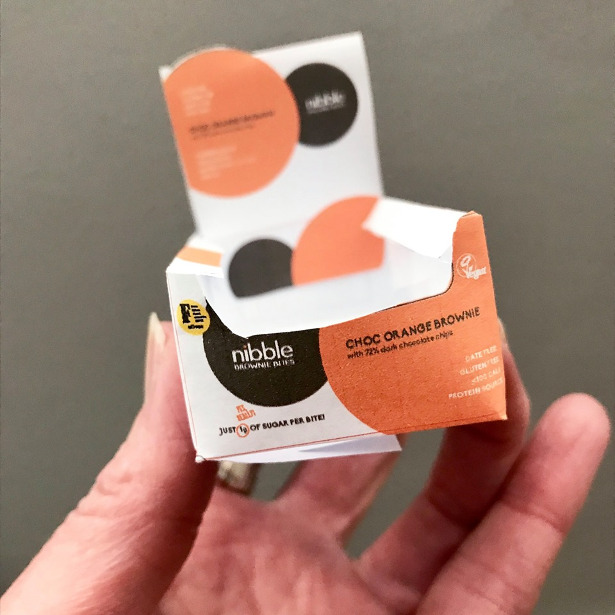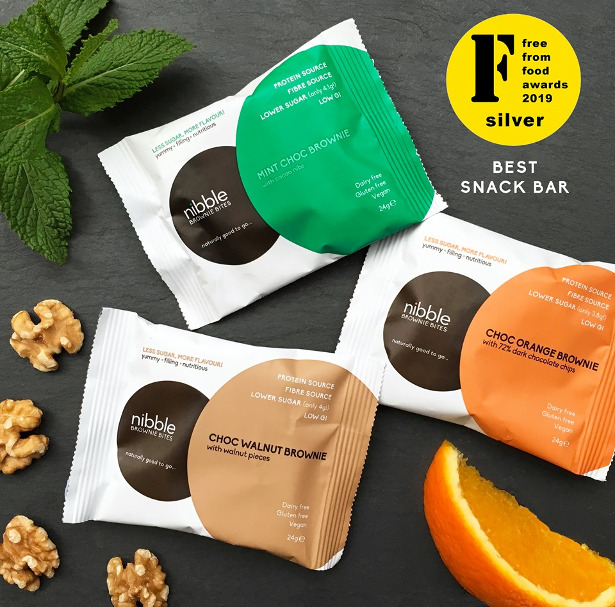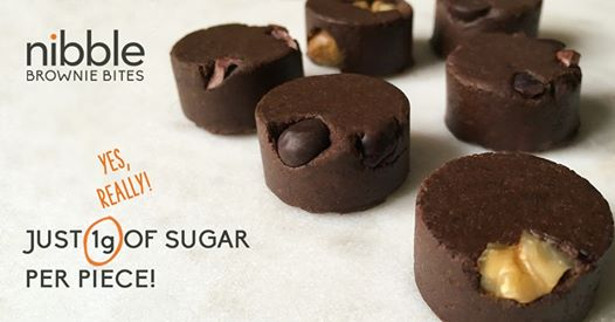 Seamless Living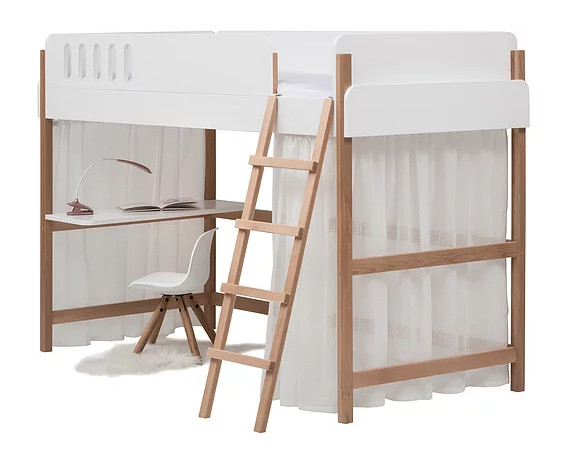 After the launch of the brand back in 2013, new to the UK market for 2019 Wooothy (composed from two words WOOD and DOROTHY english for Doroteja, founder and CEO of the brand) has continued to go above and beyond both in cutting edge design and quality craftsmanship. All components of the Wooothy bed are sourced from local materials such as the wood haversted from the highest quality beech trees of Slovenia. As a small family company with 12 employees, their commitment to superior quality is second to none across Europe and Russia. After years of honing in these skills Wooothy are true experts in their field.
The Wooothy collection boasts several concepts, such as the Single Bed available to buy online for £552.45 and perfect for child aged 3 years + the handy pocket on either side of the bed makes the ideal spot for book, toys and much more! Then as your child begins to grow remove the safety rails as it's time to progress to the Canopy Bed available to buy online £761.99. Or alternatively you can use the Canopy separately as a little house to play in. Once your child is old enought to sleep from a height, why not add a play area under the bed with the Mid High Bed With Playroom available to buy online for £943.63. Which opens up the unused space usually found under the bed, a life saver when you lacking in room and need some extra storage space. Or for two siblings why not put two single beds together to create the Wooothy Bunk Bed available to buy online for £1313.36. Because once the novelty has worn off and are wanting there own space can later be reassembled into two beds without spending a penny.
Throughout the collection you can instantly recognise the soothing paired back minimalistic design as the white and natural wood tones complement each other beautifully, both wonderfully calming for your child and suitable for any child's bedroom no matter the existing décor.
Once you've chosen your Wooothy Bed why not make it feel extra special for your child, Wooothy now offer a personalising service which allows you to engrave their name or a customised message, which Wooothy will then beautifully emboss onto the foot board of the bed. Simply choose your words and 1 of the 2 fonts available then Wooothy will do the rest!
For more information on Wooothy's stunning range of beds visit Wooothy.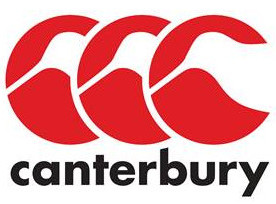 Canterbury Release Brand New England Training Gear Ready For Christmas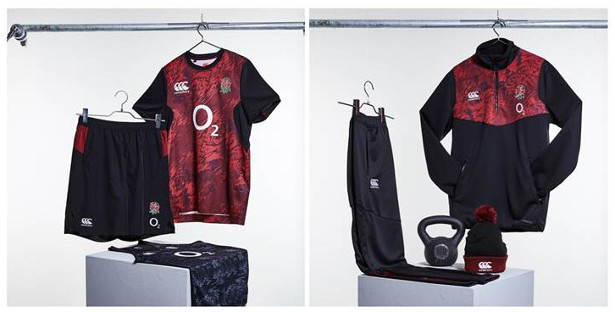 England Vapodri+ Drill Tee – Red – £40 available from www.canterbury.co.uk
England Vapodri 8inch Woven Gym Shorts – Black – £29 available from www.canterbury.co.uk
England Vapodri Poly Singlet – Black – £28 available from www.canterbury.co.uk
England Thermoreg Quarter Zip Top – Black – £58 available from www.canterbury.co.uk
England Vapodri Poly Knit Pant – Black – £40 available from www.canterbury.co.uk
England Acrylic Bobble Hat – Black – £14 available from www.canterbury.co.uk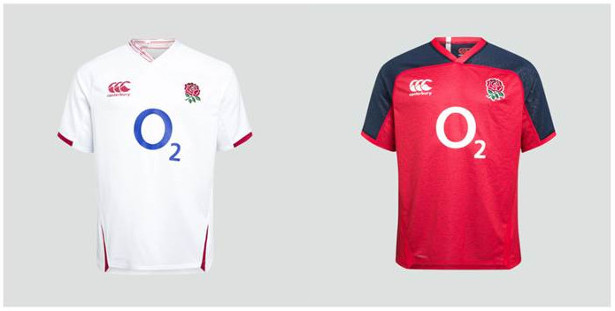 Men's England Vapodri Home Pro Jersey – White – £70 available from www.canterbury.co.uk
Men's England Vapodri Away Pro Jersey – Red – £70 available from www.canterbury.co.uk
Give the gift of wellness this Christmas with Ojamin Herb & Fruit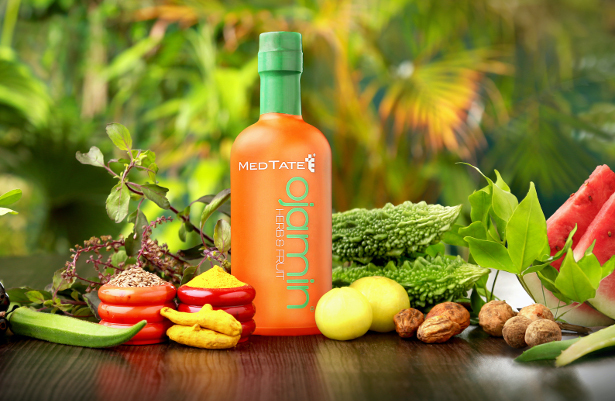 Give the first of wellness this Christmas with Ojamin Herb & Fruit, the all-natural supplement for a new and healthier you.
Vegan friendly, sugar- and gluten-free and easily taken alongside prescribed mediation, Ojamin fits into nearly any nutritional regime, making it the perfect Christmas gift for all those wishing to revitalise their health routine.
Self-care is not only one of the most popular healthcare trends today, but it is a holistic process of self-improvement aimed at cultivating personal fulfilment alongside physical and mental wellbeing. With a new year ahead, come new opportunities to make positive and empowering changes.
Available in tonic or capsule form, Ojamin fuses together a unique blend of 14 sustainably sourced herbs and fruits fused and refined for maximum health benefit. Known to stimulate the immune system and praised for their antibacterial, anti-inflammatory, antimicrobial, antifungal and antiviral properties, ingredients include Aloe Vera, Basil, Beleric, Bitter Melon, Cumin, Gooseberry, Bael, Haritaki, Fenugreek, Java Plum, Neem, Okra, Tumeric and Watermelon seeds.
In addition to promoting overall wellness, Ojamin is particularly suited to the needs of diabetics wishing to fortify their daily healthcare routine.
Ojamin Herb & Fruit is available as a herb & fruit tonic in bottle and sachets and also in capsule variants. It retails at £29.99 for a month's supply and £11.99 for a week's supply.
It can be purchased online at ojamin.com, victoriahealth.com and other leading online stores as well as in many local pharmacies and health stores.
As with all supplements, those who are taking Ojamin Herb & Fruit should seek professional advice from a doctor or pharmacist if they have underlying health conditions.
www.ojamin.com
Introducing GROUNDED
The cruelty free, clean skincare brand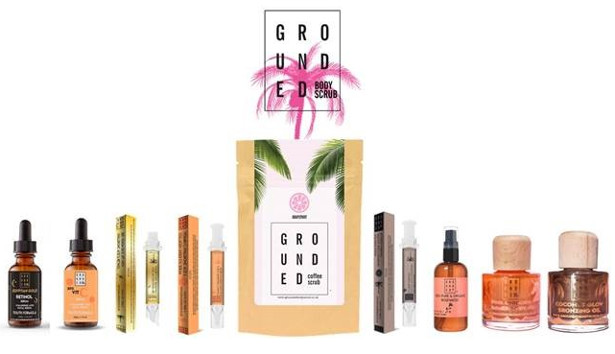 With the launch of their Coconut Body Scrub four years ago, leading UK skincare brand Grounded have expanded their range due to popular demand.
Now, the range includes cruelty-free products for face, body and hair with an emphasis on natural preventative anti-ageing beauty.
Grounded was born from Founder Tasha Harris' frustration with the lack of results achieved from over the counter medication in treating her Eczema.
What started out as a simple project by Lloyd and Tasha in their kitchen in Leigh on Sea has grown into a worldwide skincare brand with over 30 countries and 60 different worldwide airlines globally stocking the range.
Products (from left to right) include:
Egyptian Gold Retinol Serum – £39.99
Vitamin C & Hyaluronic Acid Anti-Ageing Serum – £34.99
Bee Venom Face Lift with Hyaluronic Acid & Retinol – £110
Collagen Under Eye Pen – £24.99
Coffee Body Scrubs in Chocolate Orange, Cherry Almond, Coconut & Grapefruit – £15
The Pimple Potion – £24.99
Organic Rose Water Facial Toner – £15
Pink Unicorn Shimmer Body Oil – £24.99
Coconut Glow Shimmer Body Oil – £24.99
Stockists:
Amazon, Zalando & Selected Global Airlines
www.groundedbodyscrub.co.uk
Edinburgh New Town Cookery School (ENTCS) is once more offering gift vouchers, ideal to give as Christmas presents.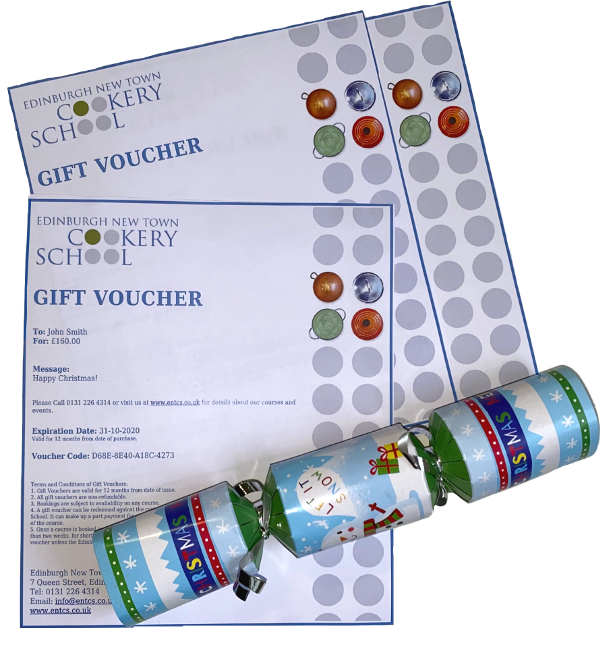 Whether it's to allow a foodie to learn a new skill, help a friend to fall back in love with cooking, or encourage teenagers to learn their way around the kitchen, a voucher just lets them choose. ENTCS offers courses at all levels from beginner to professional and the vouchers are redeemable in 2020.
Popular courses at the school include Curries of the World, which introduces novice cooks to spicy international flavours. Other introductory courses include baking , patisserie and game alongside culinary journeys including a new Mexican course and also Vietnamese, Japanese, Thai and Spanish. Whether it's the gift of a beginner's evening class or specialist cooking such as gluten free and vegan, the benefit of giving vouchers is that your budding chef can choose their own course. Each year the ENTCS calendar is packed full of inspiring options: visit www.entcs.co.uk for more information.
Fiona Burrell, principal of ENTCS, comments: "Christmas is here again! Our vouchers are the perfect way to thrill a foodie with the choice of one of our popular courses, whether they want to learn a new skill or begin their culinary journey."
Other Christmas ideas can be found in the school's display cabinets, as ENTCS also stocks a small selection of kitchen items, aprons, tea towels and books which are perfect stocking fillers. Olive oil from the Extramadura region of western Spain would make a great gift for a cook or as a thank you present to a host.
Always popular at Christmas are the ENTCS Christmas courses. This year's December courses include inspiration for entertaining with the Christmas canapes demonstration with a glass of fizz, the 'Festive Fizz' evening which is ideal for friends, and the ever-popular children's baking morning and afternoons. For those keen to take the stress out of Christmas, there are also opportunities to learn 'Easy Entertaining' from the experts with the Christmas demonstration and lunch, which is always a good way to catch up with friends ahead of the season. And the kids are kept happy too, with the well-loved Children's Baking days.
GREYFRIARS VINEYARD: THE ULTIMATE GIFTS FOR THE WINE LOVER THIS CHRISTMAS

A duo of new gifts from Greyfriars Vineyard are the ultimate presents for the wine lover this Christmas.
Two new gift sets from Surrey's finest producer of English wine will not only fill their Christmas stocking but their glass too.
Choose from a bottle of Greyfriars Vineyard Limited Edition Blanc de Noirs NV or a bottle of Greyfriars Vineyard award-winning 2014 Sparkling Rosé Reserve. Both are accompanied by two Greyfriars branded sparkling wine flutes and presented in a beautiful gift box.
The Blanc de Noirs is the second edition to Greyfriars' Prestige Cuvée range, the first was the 2015 Cuvée Royale released in 2018. Limited edition, only 3,800 individually numbered bottles have been made of the Blanc de Noirs.
Rosé is not just for summer! This Christmas choose Greyfriars Vineyard 2014 Sparkling Rose Reserve – named Best English Sparkling Rosé by the International Wine Challenge ("IWC") this year. Enjoy on its own as your pre-Christmas dinner apéritif or served with smoked salmon canapés.
Greyfriars' Owner and Winemaker, Mike Wagstaff, says: "It's been an exceptional year for Greyfriars and we wanted to celebrate this with our customers by creating these gifts for Christmas. Our first ever Blanc de Noirs was launched this spring and is drinking beautifully right now and we were over the moon that our 2014 vintage Sparkling Rosé Reserve was recognised so highly by the IWC this year.
"Rather than just sell the wine by the bottle we have presented these wines with two monogrammed flutes in an elegant gift box so when the wine has been drunk the recipient still has a keepsake of their favourite English sparkling wine," adds Mike.
Give a gift from Greyfriars this Christmas:
Greyfriars Vineyard Limited Edition Blanc de Noirs NV with two flutes presented in a gift box, priced £44.99.
Greyfriars Vineyard award-winning 2014 Sparkling Rosé Reserve with two flutes presented in a gift box, priced £39.99.
Both gifts are limited edition and available from www.greyfriarsvineyard.co.uk.
Be Your Own Makeup Artist: Unleash Your Inner Beauty, found at www.beyourownmakeupartist.com, is the perfect gift that offers a great opportunity to explore various products, share beauty discussions and experiment with makeup – throughout generations!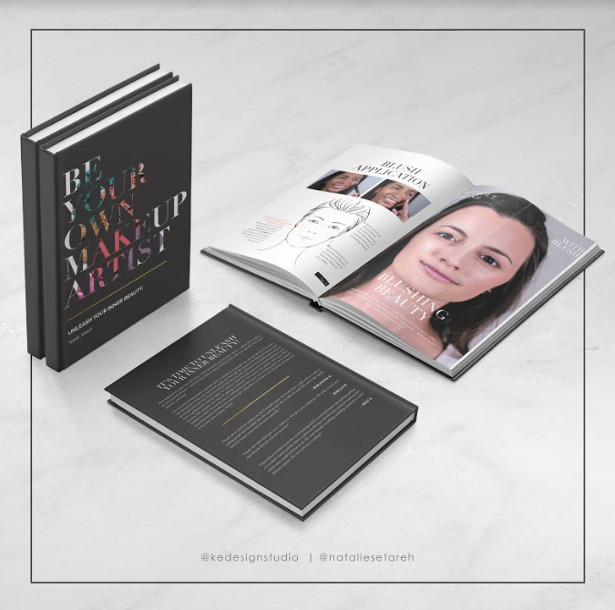 Written in an easy-to-digest format, along with detailed illustrations, this book is gender neutral, inclusive, and multi-generational. Empowerment and confidence comes from within. Discover how to apply makeup that showcases your unique features!
Available on Kindle (free with the membership) as well as in paperback and hardcover editions. Book highlights include:
Identify your skin type, tone and undertone to find your perfect product
Shop smarter by understanding the 'business' of makeup
Learn the tools and brushes for makeup and how to use them properly
With each purchase of the book, you also receive an invitation to join an online community of fellow readers, makeup artists and beauty experts. The community is designed for Natalie to offer additional educational and informative tips and advice as well as encourage readers to discuss and share their makeup journeys.